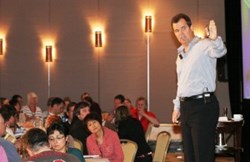 (PRWEB) July 03, 2013
In a recent Real Estate Podcast Show with Rick Otton | Episode 60″ onclick="linkClick(this.href)" rel="nofollow">Creative Real Estate podcast, property educator Rick Otton and his star student Benny Chislett interview one of Mr Otton's successful students from the UK, Fion Chen.
Ms Chen began using Mr Otton's creative real estate investment strategies after attending his three-day bootcamp in 2011. Ms Chen reveals in the interview that she came out of the bootcamp and got into investing 'the Rick Otton way' the very next day.
"I was buzzing after the three days, so I thought, 'Oh my goodness, I just can't wait to put into action everything I learned," said Ms Chen.
She started by simply buying some cardboard from the supermarket to make a sign saying "We Buy Houses". Straight away Ms Chen got three strong property leads, and soon closed her very first Rick Otton style Real Estate Podcast Show with Rick Otton" onclick="linkClick(this.href)" rel="nofollow"> real estate investment deal. Buying a house with negative equity and selling it to the existing tenant in the property netted her a small profit, but more importantly, showed her how the process worked.
"We only made about two thousand pounds, but the cashflow was over two hundred pounds each month. It was great because I wanted to get through the experience doing it," said Ms Chen.
Even better was the process itself – which she says gave her her first deal, the landlord a sale, and the tenant-buyer a way into the property market: a win/win/win.
Mr Otton discusses the process of understanding his strategies as a paradigm shift, like learning a second language. He encourages people to use creative ways with property deals, moving from thinking about buying houses the traditional way with bank loans and deposits, to buying them with no bank loan and no deposit.
But he acknowledges that it can be difficult at first to 'get' his strategy. He summarises it by saying, "It's not about the price you pay, it's how you pay the price."
Using Mr Otton's strategies, Ms Chen was soon making more and more real estate transactions. Her advice for newcomers? Follow the Real Estate Podcast Show with Rick Otton" onclick="linkClick(this.href)" rel="nofollow">property investment strategies the way Mr Otton teaches them.
"I just copied your strategy, and copied exactly what you have done and I proved it works. It was fantastic. Now I know how I can actually buy a house without any money at all. I literally don't even need a pound," she told Mr Otton in the interview.
The free full podcast can be heard on Real Estate Podcast Show with Rick Otton on iTunes" onclick="linkClick(this.href)" rel="nofollow">iTunes at Creative Real Estate .
About Rick Otton
Rick Otton has spent decades making money by snapping up inexpensive real estate and putting it to work building wealth, and teaching others to do the same.
He is the founder and CEO of We Buy Houses, which operates in the US, UK, Australia and New Zealand, and through this business he puts his strategies to work every day.
Mr Otton received his start in alternative real estate investment in 1991 in the US, and within a year acquired 76 properties. In subsequent years, he made a fortune using his low-risk, high-reward strategies to inexpensively acquire real estate . He continues to do so.
As well Mr Otton travels between his home in Australia, and the UK, sharing his wisdom and teaching others how to buy and sell real estate , free from the constraints imposed by traditional lenders.
In 2013 Rick is celebrating the 10 year anniversary of introducing his property option strategies to real estate investors in the United Kingdom – the first person to reveal these ground-breaking strategies. In 2008 he created the first of his 'Houses for a Pound' strategies, upon which he grows as markets and laws evolve.
Mr Otton has been featured in a variety of television programs and magazines and in 2013 he published 'How To Buy A House For A Dollar' for the Australian market. This book has been named in the list of the Top 10 Most Popular Finance Titles for 2013, as voted by Money Magazine and Dymocks Book stores. A UK version is on the drawing board.
For full details of Mr Otton's open-to-the-public free one day seminars visit HowToBuyAHouseForADollar.com or phone, in Australia 1300 888 450