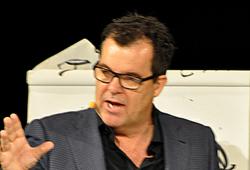 (PRWEB) June 27, 2013
Real estate millionaire, Rick Otton, has revealed that all aspiring property investors in the UK can secure a foothold in the housing market even if they are unable to meet the criteria needed for a bank loan. Mr Otton urged investors to learn how to implement alternative real estate investing strategies, as new data published in the Daily Telegraph shows average housing prices have broken through the 250,000 pounds mark for the first time.
"According to the data, there is evidence of a housing recovery across the UK, with a spike in prices across all major regions," Mr Otton said.
"In London itself, prices have hit a record high with a phenomenal 10.9 per cent increase from last year. While this is fabulous news for sellers, it also issues a red light for buyers.
"Any first-time investor serious about entering the property market should urgently consider making a move before prices rise beyond their reach. For the tens of thousands of people struggling to get a bank loan, I'd like to assure them that there are plenty of ways to gain financial freedom through property, if they just know how."
How to Buy a House for a Pound
Mr Otton is renowned in the UK as the creator of 'How to Buy a House for a Pound'. In both 2012 and 2013 he has held a Zero-Debt Property Cashflow Conference, a popular three-day ultimate wealth summit where he shares his property millionaire secrets.
His creative progressive property strategies focus on a 'no-money-down' approach, where investors are able to act as the middle parties, controlling assets rather than owning it. His innovative strategies do not require investors or home owners to have access to a bank mortgage, equity from an existing property, stamp duty or a deposit to invest in property.
"During our 2014 Zero-Debt Property Cashflow Conference, we'll be taking a step-by-step look at the fundamentals of the rent-to-own system, my proven and easy-to-copy property strategies,and ways to sky-rocket income through instalment contracts," Mr Otton said.
"The event is a must-do for both beginners and experienced property investors as they'll learn ways to make money through property, even if the banks aren't lending."
For those wanting to get a head start on learning Mr Otton's strategies, he is offering, at no charge, a downloadable Property Profits Pack on RickOtton.co.uk
Details of early bird pricing for the 2014 UK Zero-Debt Property Cashflow Conference are also on the website, with phone enquiries welcome on 0207 000 1027 (UK).
About Rick Otton
Rick Otton has spent decades making money by snapping up inexpensive real estate and putting it to work building wealth, and teaching others to do the same.
He is the founder and CEO of We Buy Houses, which operates in the US, UK, Australia and New Zealand, and through this business he puts his strategies to work every day.
Mr Otton received his start in alternative real estate investment in 1991 in the US, and within a year acquired 76 properties. In subsequent years, he made a fortune using his low-risk, high-reward strategies to inexpensively acquire real estate . He continues to do so.
As well Mr Otton travels between his home in Australia, and the UK, sharing his wisdom and teaching others how to buy and sell real estate , free from the constraints imposed by traditional lenders.
In 2013 Rick is celebrating the 10 year anniversary of introducing his property option strategies to real estate investors in the United Kingdom – the first person to reveal these ground-breaking strategies. In 2008 he created the first of his 'Houses for a Pound' strategies, upon which he grows as markets and laws evolve.
Mr Otton has been featured in a variety of television programs and magazines and in 2013 he published 'How To Buy A House For A Dollar' for the Australian market. This book has been named in the list of the Top 10 Most Popular Finance Titles for 2013, as voted by Money Magazine and Dymocks Book stores. A UK version is on the drawing board.
For more details about Rick Otton's 2014 UK Zero-Debt Property Cashflow Conference or to download the free Power Property Profits Pack, visit http://www.RickOtton.co.uk or phone 0207 000 1027 (UK).